Didn't know I had yet another one out there. And no, this is not an indictment of my parents for "not telling me something."
I've recently started swapping e-mails and conversations with a fellow communicators – a nice guy named Michael Sommermeyer. He works for the courts in Las Vegas, and it turns out we have a heck of a lot more in common than either of us knew.
I don't write about "Social Media" and "Social Networking" and "Web 2.0″ stuff for a host of reasons. There's already a lot of it out there, and it's not in my ordinary bailiwick. Also, what it out there is typically narcissistic, navel-gazing, and highly speculative. Besides, if you can communicate clearly, it doesn't matter what tool you use. But, if it weren't for playing around experimenting with these tools, I wouldn't have met Sommermeyer.
On Thursday, Mike will be taking part in a Power of Two seminar in Vegas, run by my Red Cross counterpart in the West Region. Power of Two is a joint venture between the American Red Cross and PRSA: think of it as a crash course in Red Cross protocol and terminology, designed to allow accredited and experienced public relations professionals plug in to disaster and volunteer work.
As it happens, we've already walked a lot in each other's shoes. Or at least trod the same sod. (but not yet stepped on toes.)
Ike: grew up in Twin Falls, Idaho.
Mike: worked as a reporter in Twin Falls, Idaho.
Mike was already the weekend anchor at KMVT in 1986, when I happened to take a trip back to see my old friends just a couple of weeks before graduation.
Ike: worked for Woods Broadcasting in Dothan, AL
Mike: worked for Woods Broadcasting in Lubbock, TX
My first on-air job as a reporter was at WTVY, the flagship station of businessman, veteran, and perennial political candidate Charles Woods. Working for that man was – well – an experience.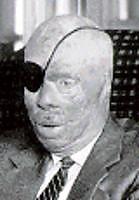 Woods had been horribly disfigured in WWII, and bragged about using his appearance as an intimidation factor. One of his pet strategies (actually admitted to me one day in the hall) was to prolong negotiations as long as possible, knowing the other party would feel uncomfortable around him. The company itself was small and family owned, and let's just say there were perks and other accounting peculiarities that were not considered "normal practices" for that era. (Nothing illegal or unethical, just odd.)
Sommermeyer and I have already started talking about how we can put our joint experiences in play to find better solutions to our communication challenges (except for the intensely legal stuff – that's Mike's bailiwick.) So for that, I would like to thank the world of Social Media. Just tell me where to send the check.